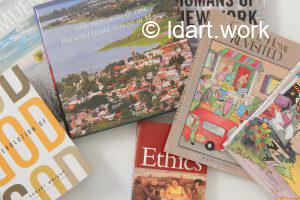 The library of the domain gives an image of the creatures quite different from what one would guess by listening to them. In that, it only reflects the complexity of beings.
Baruch the heron likes thrillers, especially the ones by John Grisham
. He also keeps One Hundred & One Beautiful Small Towns in Mexico (101 Beautiful Small Towns)
with him at all time, even though he has never been so far away.
Gottfried the bird is always looking for ideas for housing and actually favors Microshelters: 59 Creative Cabins, Tiny Houses, Tree Houses, and Other Small Structures.
When he does not ask questions, Socrates the stick reads and rereads Blink: The Power of Thinking Without Thinking
; or books by Malcolm Gladwell
, or Man is the Measure (Cordial Invitation to the Central Problems of Philosophy)
by Reuben Abel (a gift from Snake!).
Luce the squirrel dreams with cookbooks, but knows she does not have a lot of time, so she favors Betty Crocker Quick & Easy Cookbook (Second Edition): 30 Minutes or Less to Dinner (Betty Crocker Cooking);
or, for vegetarian recipes Moosewood Restaurant Cooks at Home: Fast and Easy Recipes for Any Day
Davina the goose has an old copy of Falling Up
by Shel Silverstein
; she also never tires of looking at his poems and drawings.
Aurelius the angel tries to better understand his role by reading The Evolution of God (Back Bay Readers' Pick)
by Robert Wright
Peter the hawk is often interested in the visual arts. He admire Humans of New York
by Brandon Stanton
as well as Inuit Art
by Ingo and Dieter Hessel
.
Simone the green berries devour Timeless Beauty: Over 100 Tips, Secrets, and Shortcuts to Looking Great
and How to Get Dressed: A Costume Designer's Secrets for Making Your Clothes Look, Fit, and Feel Amazing
.
Emilies the blue berries have a weakness for interior decoration and architecture; they would recommend History of Interior Design
and The Sourcebook of Contemporary Houses
to anyone who would ask.
Niccolò the snake like ethics and in particular Animal Liberation: The Definitive Classic of the Animal Movement by Peter Singer
, an Australian philosopher he discovered by chance.
Emmanuelles the turtles love photography books and in particular Vast & Intimate: Connecting with the Natural World
by nature photographer David Muench
.
Charmide and Mickael the deer have very eclectic tastes, so they often browse the 100 best new books
page to find something they could like.
Irinas the dead leaves try to sheer up with Let's Pretend This Never Happened: A Mostly True Memoir
!
Friedrich the owl is the most philosopher of all: she doesn't speak much but has read all the books recommended under the dialogues. That 's what feeds her aphorisms!
---